Auditions
---
Upcomming Auditions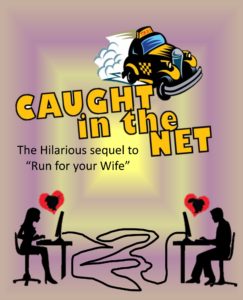 CAUGHT IN THE NET
WRITTEN BY: Ray Cooney
DIRECTED BY: Candy Kane
AUDITIONS:  JULY 11 & 12, 2017
SHOW DATES:  SEPT 9,10,15,16,17,22,23,24, 2017
The sequel to Run for Your Wife finds the bigamist taxi driver John Smith still keeping his two families in different parts of London, both happy & blissfully unaware of each other. However, his teenage children, a girl from one family & a boy from the other, have met on the Internet & are anxious to meet in person since they have so much in common name, surname and taxi driving dad! Keeping them apart plunges John into a hell hole of his own making. The situation spirals out of control as John juggles outrageously with the truth.
Characters Needed:
*This show is a sequel to last years Run for your wife, original cast will be revising their roles*
Gavin Smith:   Teen-young adult, and a thoroughly decent kid
Vicky Smith:    Teen-young adult and also a thoroughly decent kid
Mr. Gardner: About 70 years old. Stock character in farce, with the ability to take on some physical challenges.
---
General Audition Information
All auditions are held at the Sandra R. Courtney Theatre at 7:00 PM (unless otherwise noted)

Auditions will include cold readings from the script.

All performances are Fridays and Saturdays at 8:00 PM and Sundays at 2:00 PM

Rehearsal schedules usually consist of Mon. – Thurs. rehearsals, 7:00 – 9:00 PM, unless otherwise scheduled by the director.

For musicals please prepare 16 – 32 bars of Broadway style music, you must bring your own backup tracks via CD or MP3. No A capella.

An audition form will be provided for those who do not have a resume.