Auditions
---
Upcomming Auditions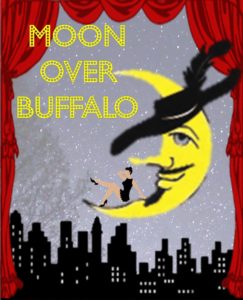 MOON OVER BUFFALO
WRITTEN BY: Ken Lugwig
DIRECTED BY:   Hedley Duncan
AUDITIONS:  FEBUARY 6 & 7, 2018
SHOW DATES: APRIL 7,8,13,14,15,20,21 & 22, 2018
A beloved & wacky backstage comedy. Two aging stars of stage, George and Charlotte Hay, husband and wife, have been reduced to playing Cyrano de Bergerac & Private Lives with a cast of five. But they have one last chance to get to Broadway with the anticipated visit of famous director Frank Capra. Their grown daughter Rosalind has brought her fiancée to demonstrate the value of a regular life but she realizes she's still in love with stage manager Paul. Add Ethel's nearly deaf and George-hating mother to round out the mayhem.
George Hay: 

Male, 45-60

  Artistic Director and actor at Erlanger Theater in Buffalo, theatrical.

Charlotte Hay: 

Female, 45-60  

George's wife, diva actress, attractive.

Ethel: 

Female, 50-75 

 Charlotte's mother, crusty, theatrical, funny.

Rosalind: 

Female, 20-40 

George and Charlotte's daughter, bright, attractive.

Howard: 

Male, 20-40  

Good natured weatherman, Rosalind's beau, attractive.

Eileen: 

Female, 20-40 

actress, very beautiful, comic, emotional

Paul: 

Male, 20-40

Richard: 

Male, 45-60
---
General Audition Information
All auditions are held at the Sandra R. Courtney Theatre at 7:00 PM (unless otherwise noted)

Auditions will include cold readings from the script.

All performances are Fridays and Saturdays at 8:00 PM and Sundays at 2:00 PM

Rehearsal schedules usually consist of Mon. – Thurs. rehearsals, 7:00 – 9:00 PM, unless otherwise scheduled by the director.

For musicals please prepare 16 – 32 bars of Broadway style music, you must bring your own backup tracks via CD or MP3. No A capella.

An audition form will be provided for those who do not have a resume.