Our 2016-2017 is Now on Sale
  Buy your season ticket at the box office or online today!
Click here to purchase tickets!
---
~Now Showing~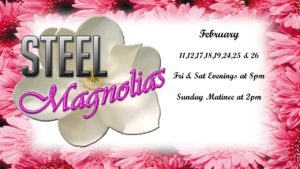 STEEL MAGNOLIAS
WRITTEN BY:  ROBERT HARLING
DIRECTED BY:  MIA MERCADO
AUDITIONS:  JANUARY 3 & 4, 2017   SHOW DATES:  FEB 11,12,17,18,19,24,25&26
M'Lynn is the mother of bride-to-be Shelby & as  friend Truvy fixes the women's hair for the  ceremony, they welcome a helping hand from aspiring beautician Annelle. Diabetic Shelby has a health scare, which is averted but doesn't bode well for her hopes of having children. Time passes, and the women and their friends encounter tragedy and good fortune, growing stronger and closer in the process.
~Comming Soon~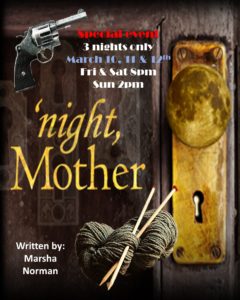 Night Mother
WRITTEN BY:  Marsha Norman
DIRECTED BY:   Cameron Harris
   SHOW DATES: March 10, 11 & 12th
'Night, Mother is a 1983 Pulitzer Prize winning Drama by Marsha Norman. About a daughter, Jessie, and her mother, Thelma (referred to as "Mama" in the play). The play opens with Jessie calmly telling Mama that by morning she will be dead, as she plans to commit suicide that very evening (she makes this revelation all while nonchalantly organizing household items and preparing to do her mother's nails). The subsequent dialogue between Jessie and Mama slowly reveals her reasons for her decision, her life with Mama, and how thoroughly she has planned her own death, culminating in a disturbing – yet unavoidable – climax.