---
~ON SALE NOW~
 Our 36TH SEASON
BUY YOUR 2017-18 SEASON TICKET AT THE BOX OFFICE OR ONLINE TODAY
CLICK HERE TO PURCHASE TICKETS TODAY!
~~

EXIT LAUGHING
WRITTEN BY: Paul Elliott
DIRECTED BY: Cindi East
AUDITIONS:  SEPTEMBER  11 & 12, 2017
SHOW DATES: Oct.28,29 & Nov.3,4,5,10,11,12, 2017
When the biggest highlight in your life for the past 30 years has been your weekly bridge night out with the "girls," what do you do when one of your foursome inconveniently dies? If you're Connie, Leona and Millie, three southern ladies from Birmingham, you do the most daring thing you've ever done. You "borrow" the ashes from the funeral home for one last card game, and the wildest, most exciting night of your lives involves a police raid, a stripper and a whole new way of looking at all the fun you can have when you're truly living.
~Coming Soon~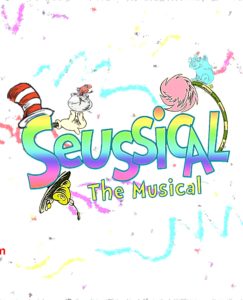 SEUSSICAL THE MUSICAL
WRITTEN BY: Stephan Flaherty & Lynn Ahrens
DIRECTED BY: Cameron Harris
AUDITIONS:  Sept. 18 & 19, 2017
SHOW DATES: Dec. 2,3,8,9,10,15,16,17, 2017
Horton hears a noise coming from a speck of dust on a clover and commits himself to protecting it and the Whos who live on it; Jojo,  a misfit Who who "doesn't Think normal Thinks," struggles to find his  place in the tiny Who society; Gertrude McFuzz tries to catch the attention of her love – the kind and compassionate Horton. Through mishaps and adventures, these unique characters finally find what they seek – their places in their world.