---
~ON SALE NOW~
CLICK HERE TO PURCHASE TICKETS TODAY!
~~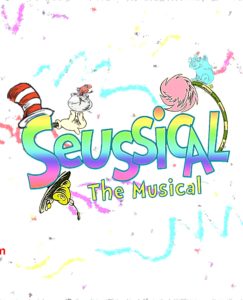 SEUSSICAL THE MUSICAL
WRITTEN BY: Stephan Flaherty & Lynn Ahrens
DIRECTED BY: Cameron Harris
AUDITIONS:  Sept. 18 & 19, 2017
SHOW DATES: Dec. 2,3,8,9,10,15,16,17, 2017
Horton hears a noise coming from a speck of dust on a clover and commits himself to protecting it and the Whos who live on it; Jojo,  a misfit Who who "doesn't Think normal Thinks," struggles to find his  place in the tiny Who society; Gertrude McFuzz tries to catch the attention of her love – the kind and compassionate Horton. Through mishaps and adventures, these unique characters finally find what they seek – their places in their world.