We will be announcing our upcoming 2015 – 2016 season very soon!
Check back often for the most current information!
~ NOW PLAYING ~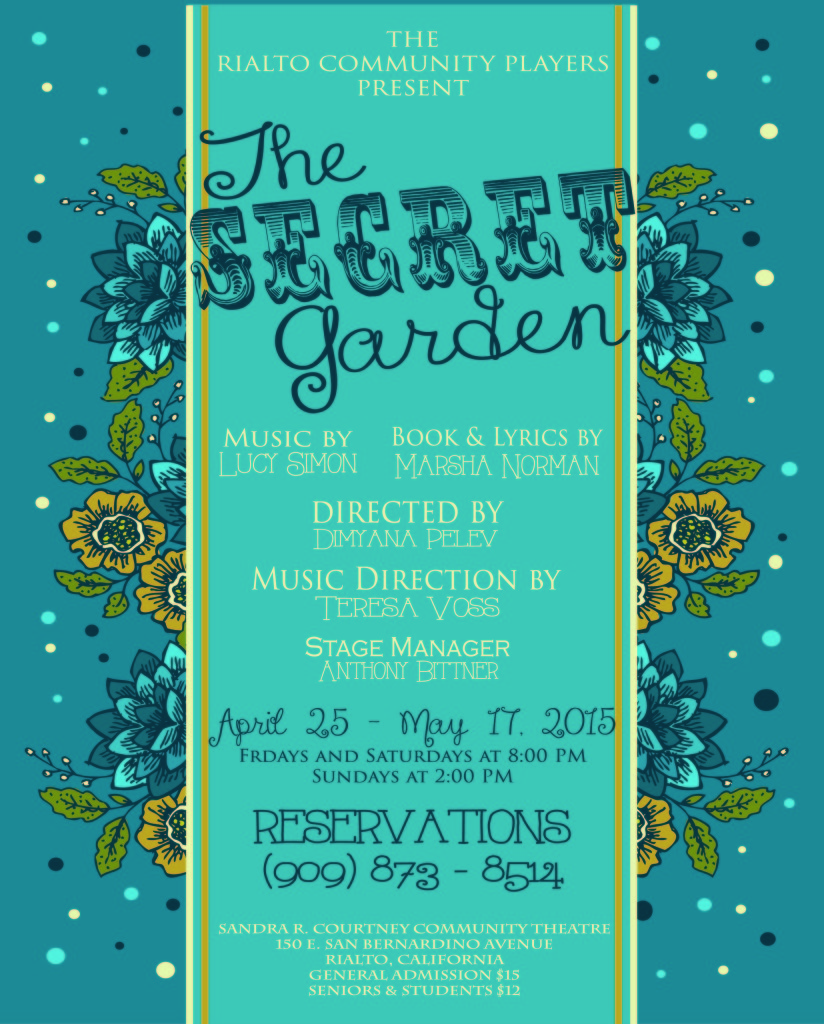 Featuring:
Haven Watts as Mary Lennox
           Tina Skousen as Lily Craven (April 24, 25, May 2, 8, 9, 16)
            Dimyana Pelev as Lily Craven (April 26, May 1, 3, 10, 15, 17)
        Ron Blakely as The Fakir of India
   April Bittner as The Ayah, Mary's Indian Nanny
          Tracy Pelev as Rose Lennox, Mary's Mother
 Elder Timbol as Albert Lennox, Mary's Father (April 24-26, May 1-3, 15-17)
 Ray Watts as Albert Lennox, Mary's Father (May 8, 9, 10)
 Jacob Moon as Dreamer Lieutenant Wright
James Ellis as Archibald Craven, Colin's Father
Robert L. Meyer as Dr. Neville Craven, Colin's Uncle
 Karen Lancaster as Mrs. Medlock, the housekeeper
 Kelly Mosteller as Martha
Paul Gregory Del Real as The Major/Dickon
 Bud Harte as Ben Weatherstaff
 Lindsey Lopez-Johnson as Mrs. Shelly/Mrs. Winthrop/Dreamer
 Alyssa Knight as Dreamer Claire/Nurse Jane
 Alexandra Stetkevich as Dreamer Alice/Mary Understudy (April 24)
 Brooke Goodrich as Dreamer Claire Jr.
 Logan Watts as Colin (Fridays and Sundays)/Young Archie
 Alyssa Burton as Colin (Saturdays)/Young Archie
 Jackson Shamp as Colin (April 24, May 15-17)/Young Neville
 Clare Watts as Young Archie (May 15-17)
Understudies: Alexandra Stetkevich for Mary (performing April 24) / Brooke Goodrich for Alice (performing April 24)
***PLEASE NOTE THAT THE APRIL 24TH PERFORMANCE IS BY INVIATION ONLY***
***THE OFFICIAL OPENING NIGHT PERFORMANCE WILL BE ON APRIL 25TH***
~ Upcoming Auditions ~

The Producers – A Mel Brooks Musical
April 27 & 28, 2015 at 7:00 PM
Directed by Cameron Harris
Music Direction by Stephanie Owens
Choreography by Jeff Hemmerling
Performance Dates: July 11 – August 2, 2015
Callbacks will be held April 29 at 7:00 PM
Please come prepared with your own backup accompaniment in either CD or MP3 form. Please no A Capella.
Casting the following roles:
MAX BIALYSTOCK (Baritione) – The consummate con man. Naturally animated and bombastic, he is never at a loss for charm and manners. Typically conspires with Leo.
LEO BLOOM (Tenor) – An accountant. Boring and mousy, he is a hesitant optimist who longs for something more. Dragged into a scheme by Max.
ROGERS DEBRIS (Tenor) – New York's most famous and flamboyant stage director. Surrounds himself with deliciously beautiful clothing, people, and possessions. In a      crowd, it would be impossible to miss him. Male, 50-60 yrs old Range: G#2  – G4
CARMEN GHIA (Tenor) – Roger Debris' faithful assistant. Carmen is severe in looks and passion for Roger. He may appear younger than he actually is thanks to skilled surgeons.
FRANZ LIEBKIND (Baritone)– German loyalist playwright. From his lederhosen to his pigeon, Adolph, his love for the motherland is unmistakable. He is imposing yet tender.
ULLA (Strong Alto) – A young and hopeful actress. Though her beauty might eclipse her talent, Ulla is passionate about life and art. Quite a clueless seductress in some ways.
ENSEMBLE CHARACTERS – Looking for 8 males – 4 tenors, 2 baritones, 2 bass' & 8 Females – 4 Sopranos & 4 Altos