2016-2017 Season
2016-2017 SEASON 
ON SALE NOW
$60 General Admission     $50 Seniors 55+/Students with ID
Buy your season ticket at the box office or online today!
Click Here to purchase!
---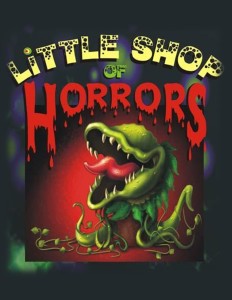 Little Shop of Horrors
BOOK & LYRICS BY: Howard Ashman  MUSIC BY: Alan Menken
DIRECTED BY: CAMERON HARRIS
AUDITIONS:  May 2, 3 & 4 2016      SHOW DATES: JULY 9,10,15,16,17,22,23,2
In this campy musical based on the 1960s cult horror film, nerdy Seymour, a florist's clerk, buys and nourishes a Venus fly trap-like plant, which he names for his beloved co-worker Audrey. The plant ultimately grows big enough to devour everything in its path.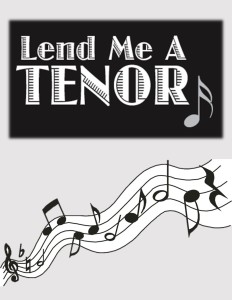 Lend Me a Tenor
WRITTEN BY: Ken Ludwig
DIRECTED BY: Hedley Duncan
AUDITIONS:  JULY 12 & 13, 2016  SHOW DATES:  SEPT 10,11,16,17,18,23,24&25
On a historic night at the Cleveland Opera Company, world-famous tenor Tito Morelli is to perform in Otello. Through a series of mishaps, Tito receives a double dose of tranquilizers, causing the house manager to believe he is dead and setting off a chain reaction of slapstick and mistaken identity.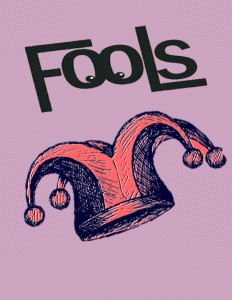 FOOLS
WRITTEN BY: Neil Simon
DIRECTED BY:  Pelve Dimyana Pelev
         AUDITIONS:  SEPTEMBER 13 & 14, 2016   SHOW DATES: OCT 29,30 & NOVEMBER 4,5,6,11,12&13
Leon Tolchinsky is ecstatic. He's landed a terrific new teaching job. When he arrives he finds people sweeping dust from the stoops back into their houses & milking cows upside down. The town has been cursed with Chronic Stupidity for 200 years & his job is to break the curse. No one tells him that if he stays over 24 hrs & fails to break the curse, he too becomes Stupid.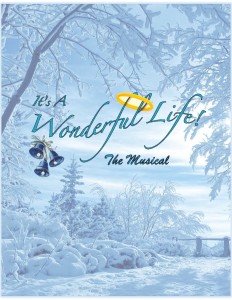 It's a Wonderful Life
BOOK & LYRICS BY: James W. Rodgers  MUSIC BY: John Higgins
BASED ON THE FILMBY: Frank Capra
 DIRECTED BY: SANDRA CORDASCO
AUDITIONS:  SEPTEMBER 20 & 21, 2016  SHOW DATES:  DEC 3,4,9,10,11,16,17&18
It's A Wonderful Life is a musical adaptation of Frank Capra's Christmas classic. This is the saga of George Bailey, the Everyman from the small town of Bedford Falls, whose dreams of escape & adventure have been squashed by family obligations & civic duty. His guardian angel has to descend on Christmas Eve to save him from despair, and to remind him – by showing him what the world would have been like had he never been born – that he has had after all, a wonderful life.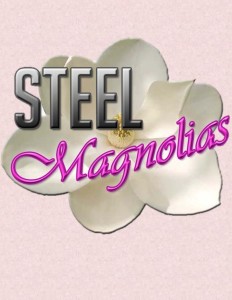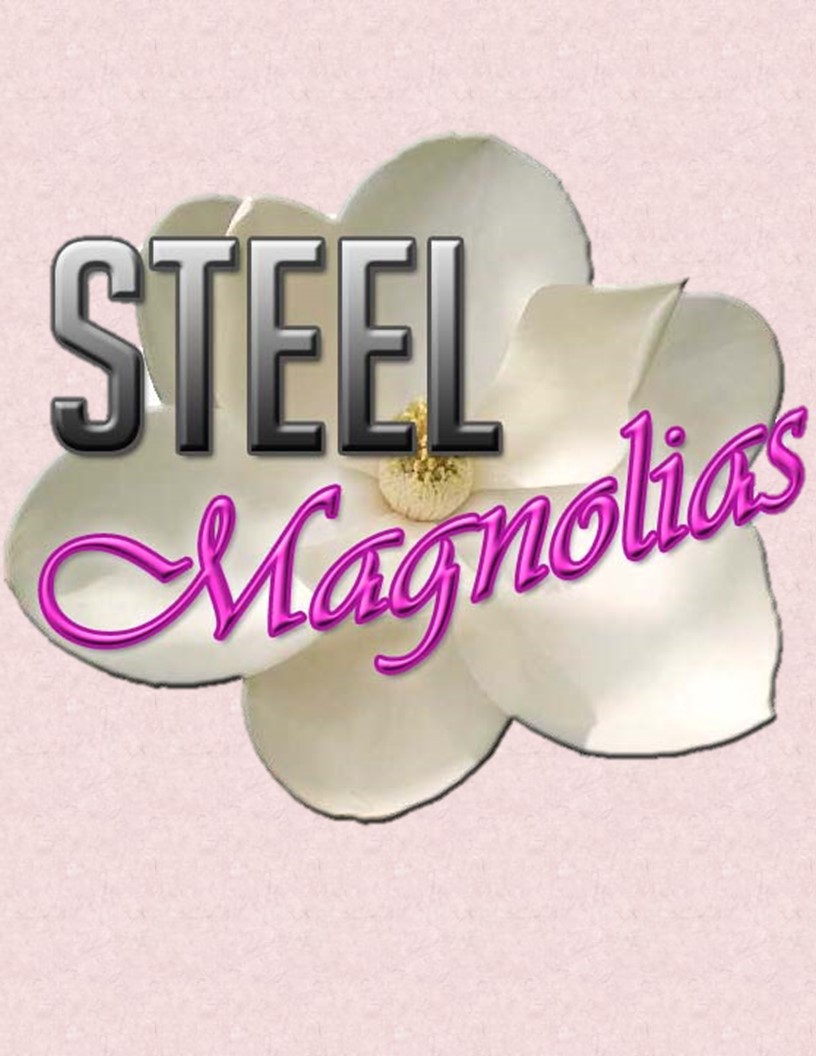 Steel Magnolias
WRITTEN BY:  Robert Harling
DIRECTED BY:  Mia Mercado
AUDITIONS:  JANUARY 3 & 4, 2017   SHOW DATES:  FEB 11,12,17,18,19,24,25&26
M'Lynn is the mother of bride-to-be Shelby & as  friend Truvy fixes the women's hair for the  ceremony, they welcome a helping hand from aspiring beautician Annelle. Diabetic Shelby has a health scare, which is averted but doesn't bode well for her hopes of having children. Time passes, and the women and their friends encounter tragedy and good fortune, growing stronger and closer in the process.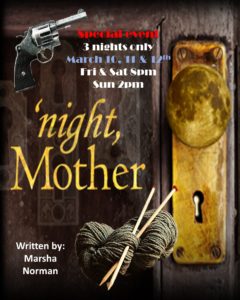 Night Mother
WRITTEN BY:  Marsha Norman
DIRECTED BY:   Cameron Harris
   SHOW DATES: March 10, 11 & 12th
'Night, Mother is a 1983 Pulitzer Prize winning Drama by Marsha Norman. About a daughter, Jessie, and her mother, Thelma (referred to as "Mama" in the play). The play opens with Jessie calmly telling Mama that by morning she will be dead, as she plans to commit suicide that very evening (she makes this revelation all while nonchalantly organizing household items and preparing to do her mother's nails). The subsequent dialogue between Jessie and Mama slowly reveals her reasons for her decision, her life with Mama, and how thoroughly she has planned her own death, culminating in a disturbing – yet unavoidable – climax.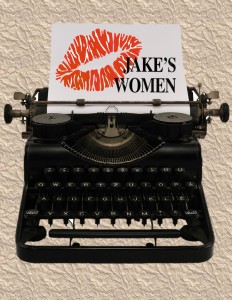 Jakes Women
WRITTEN BY:  Neil Simon
DIRECTED BY:   Candy Kane
AUDITIONS:  FEBUARY 14 & 15, 2017   SHOW DATES: APRIL 22,23,28,29,30 May 5,6 & 7
Jake, a novelist who is more successful with fiction that with life, faces a marital crisis by daydreaming about the women in his life. The wildly comic and sometimes moving flashbacks played in his mind are interrupted by visitations from actual females.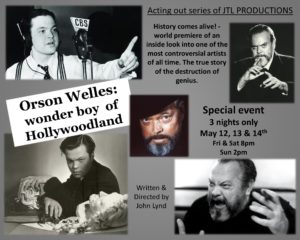 Orson Welles:
Wonderboy of Hollywoodland
WRITTEN & DIRECTED BY:  John Lynd
 SHOW DATES: May 12, 13 & 14th
Wonder boy of Hollywoodland starring multi award winning actor, Jim Marbury as Orson Welles Acting out series of JTL productions Written and directed by John Lynd. History comes alive! – world premiere of an inside look into one of the most controversial artists of all time. The true story of the destruction of genius.
---